Tarrare, an 18th-century French showman, could eat enough to feed 15 people and swallow cats whole — but his stomach was never satisfied.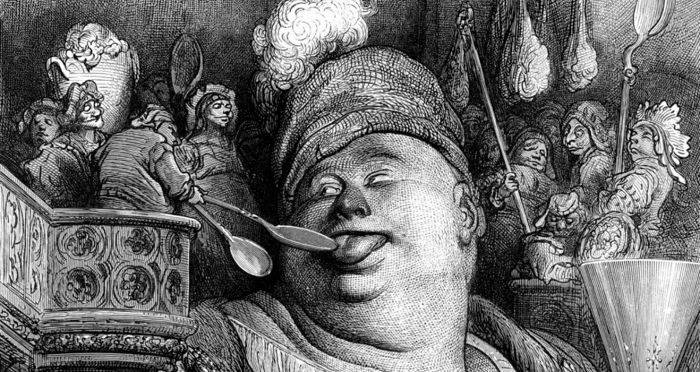 They found Tarrare in a gutter, shoveling fistfuls of garbage into his mouth.
It was the 1790s and Tarrare (born circa 1772, known only as "Tarrare") was a soldier in the French Revolutionary Army with an almost inhuman appetite. The army had already quadrupled his rations, but even after downing enough food to feed four men, he would still scavenge through the refuse piles, guzzling down every discarded shred of waste they'd thrown away.
And the strangest part of all this was that he always looked as though he were starving. The young man barely weighed 100 pounds and he seemed constantly tired and distracted. He was showing every possible sign of undernourishment – except, of course, that he was eating enough to feed a small barracks.
There must have been a few of his comrades who just wanted to get rid of him. Tarrare, after all, not only burned through the army's rations but also stunk so horribly that a visible vapor rose out of his body like real-life cartoon stink lines.
But for two military surgeons, Dr. Courville and Baron Percy, Tarrare was too fascinating to let go. Who was this strange man, they wanted to know, who could have a wheelbarrow of food poured down his throat and still stay hungry?
The Man Who Swallowed Cats Whole
Tarrare's strange appetite had been with him his whole life. It was completely insatiable, so much so that when he was a teenager, his parents, unable to afford the massive piles of food it took to feed him, kicked him out of their house.
He then made his own way as a traveling showman. He fell in with a band of prostitutes and thieves who would tour France, putting on acts while they picked the audience's pockets. Tarrare was one of their star attractions: the incredible man who could eat anything.
His massive, deformed jaw would swing open so wide that he could pour a whole basket full of apples down his mouth and hold a dozen of them in his cheeks like a chipmunk. He would swallow corks, stones, and live animals whole, all to the joy and disgust of the crowd.