These colorized versions of vintage black-and-white crime scene photos reveal a unique perspective on the murders, mobsters, and mayhem of decades past.
Though we may not often think it, crime scene photography plays an important role in documenting history. These portraits are bloody, gruesome, even stomach-churning, but they also open a seldom-seen window into what life was like at the time.
Throughout a large portion of the 20th century in New York City, for example, organized crime ruled the streets of many of the city's neighborhoods. And while the grisly stories of mob murders help reveal what those crime-ridden streets were like, the photos of those crime scenes truly bring the past to life.
Perhaps no crime scene photographer captured these horrors as well as Arthur Fellig, better known as Weegee. A Ukrainian immigrant who came to the United States at 10 and quit school at 14 to become a freelance photographer, Weegee soon made a name for himself as the go-to crime scene photographer in New York.
He seemed to have a sixth sense about when and where a crime was going to take place and always seemed to be the first on the scene. Of course, it turned out that Weegee didn't actually possess any superhuman abilities, just a police scanner. Nevertheless, his photographs of New York City murders, suicides, fires, and so much more remain legendary to this day.
>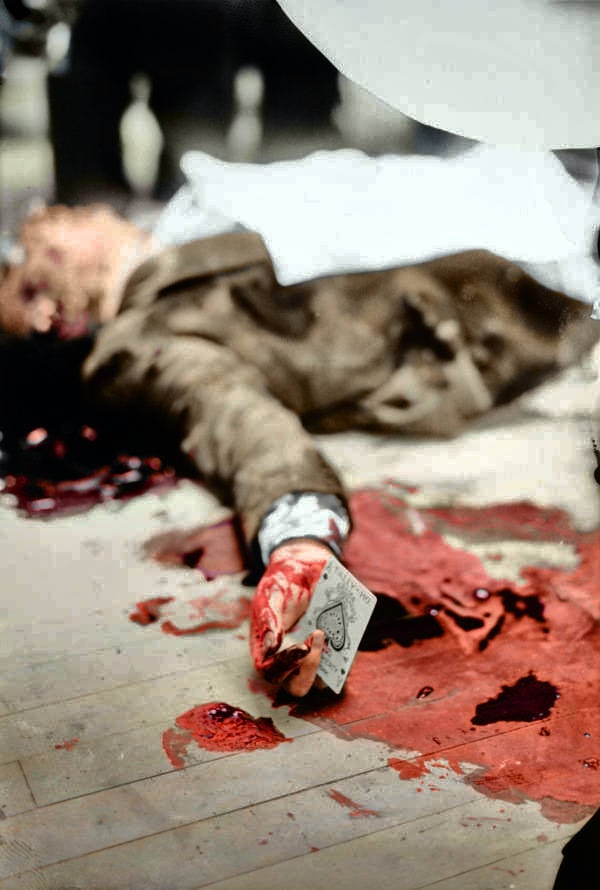 Mafia kingpin Joe Masseria holds the ace of spades, "the death card," in his hand following his murder on the orders of infamous gangster Charles "Lucky" Luciano in a Coney Island restaurant. 1931.