Tattoos don't go out of style, and this has been increasingly demonstrated by celebrities, who often share the results of impressive ink work done on their skin, on their social networks. However, the happiness ends when they have to cover or remove something they got while in a relationship or simply because they got bored with the design. In other cases, some celebrities have even declared that the tattoo they removed gave them "bad luck." These events happen more frequently than we realize, and some celebrities have had to go through this situation more than once.
1. Eva Longoria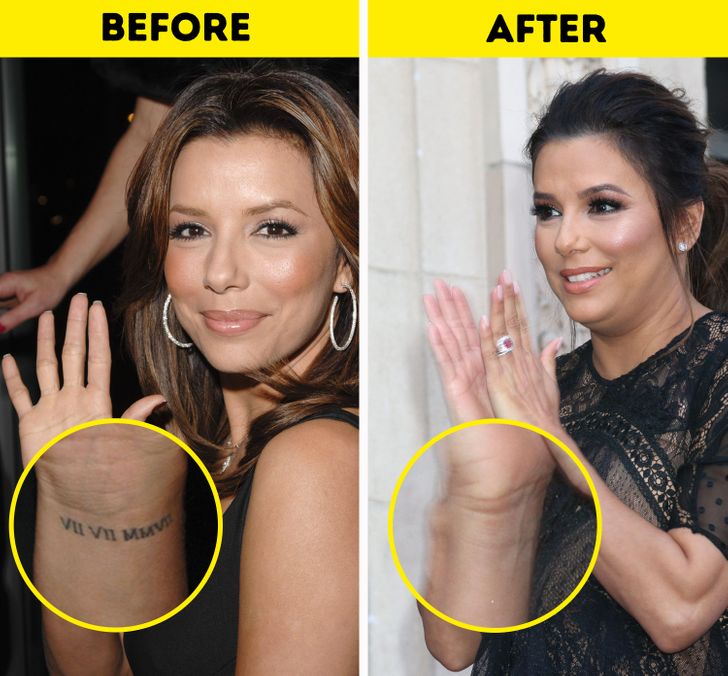 © Roth Stock / Everett Collection / Everett Collection, © Jean_Nelson / Depositphotos
This actress had several tattoos in honor of her former husband, basketball player Tony Parker. The first one was on her neck, and it said "Nine," like the number on the jersey the player wore when he played for the NBA's San Antonio Spurs. Another very visible tattoo she had was the one with the date of their wedding, "July 7, 2007" written in Roman numerals (VII-VII-MMVII). It used to be on her right wrist, but later on when they divorced, Eva immediately went to remove the artwork that once symbolized her love for the French basketball player.